Since 1960 Wetherfield has been a thriving business community which has allowed independent trade to flourish whilst managing to keep out large corporations. As of now, there are currently sixteen operating businesses in Wetherfield, not including the Public Houses, and on the whole, they are turning profit and affording the community to live in relative prosperity.
The businesses vary in both their target market and their industry, but all of them share one thing in common. They provide top quality service in the interest of their very loyal customer base.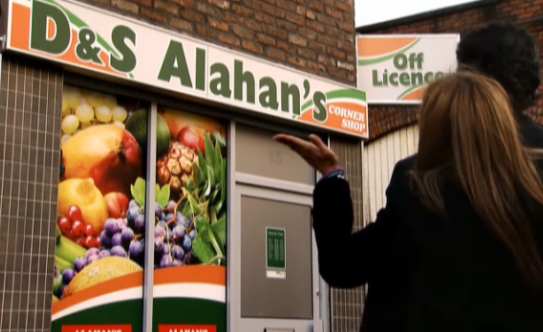 Very rarely do we see anyone jump on a bus and head to Manchester City Centre for a haircut or for a meal at one of the city's top restaurants. The people of Wetherfield are very protective of their local businesses and almost all of them rely upon them for employment and services
Wetherfield, has long rejected the establishments ideology that multinationals and large corporations should be allowed and indeed invited, to call the shots.
Just walk down the cobbles and you will see many examples of someone living out there dream. Residents armed with nothing but an idea and passion for business are the only rulers around here. For example, there is Prestons Petals which Tracey has recently opened, going back to her roots as a budding florist, a trade that circumstances had previously made her abandon.
In order for business to excel in the area, key members of the council such as Alf Roberts, Curly Watts and Len Fairclough have had to participate in a grassroots movement geared towards a socialist ideology and way of operating. It's makes perfect sense, encourage business to come to the area with no prejudice to age, sex, or race and allowing them work in a creative and environmentally responsible way, not only will you reap the benefits of a culturally and independently diverse community, but the enterprise and trade that becomes of the this will give your constituents employment and a much more prosperous way of life.
Kevin Webster has always maintained a fierce stance when offered the opportunity to relocate his long standing and highly successful automobile business out of the Wetherfield area. He has long remained loyal to his customers and this is another example how business is able to work for the many and not just the few.
Devandra Alahan opened his 8th convenience store on Coronation Street in 2004 and has gone on to make this his primary residence and D&S Alahan headquarters. A number of years ago his Coronation Street branch held firm during the recession whilst a number of his other premises began to encounter financial difficulty.
Roys Rolls opened by Roy Cropper in 1998 is a local café where people from all areas of the community come together, perhaps to discuss their lives, or in some case, even broker mutually beneficial business deals. Roys Rolls which currently employees three other people (with Mary as a stand in waitress also) is a prime example of serving the community whilst bringing money into the area.
This socialist model from which Wethefield has grown has allowed a relatively small area of Greater Manchester to be become almost self-sustaining with low business rates, affordable premises and a progressive group of councillors on the business committee, Wetherfield really is a beacon of independent and modern business that works for all areas of a community whilst still delivering on all its fiscal targets.